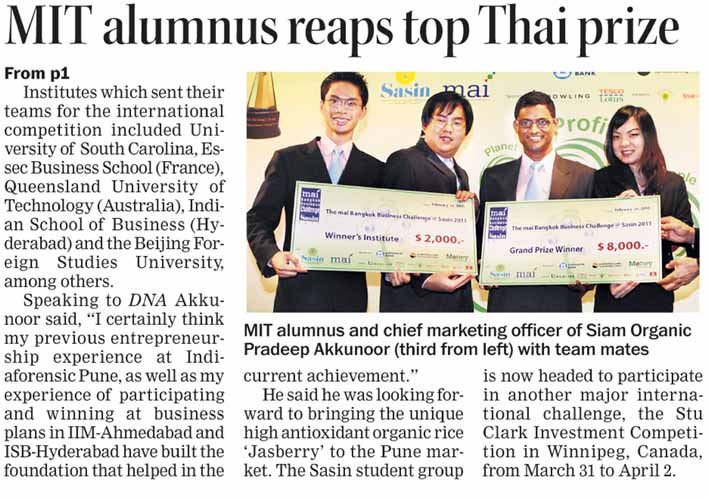 DNA: MIT alumnus reaps top Thai prize, Akkunoor's group will now market unique organic rice worldwide
by
Feb 20, 2011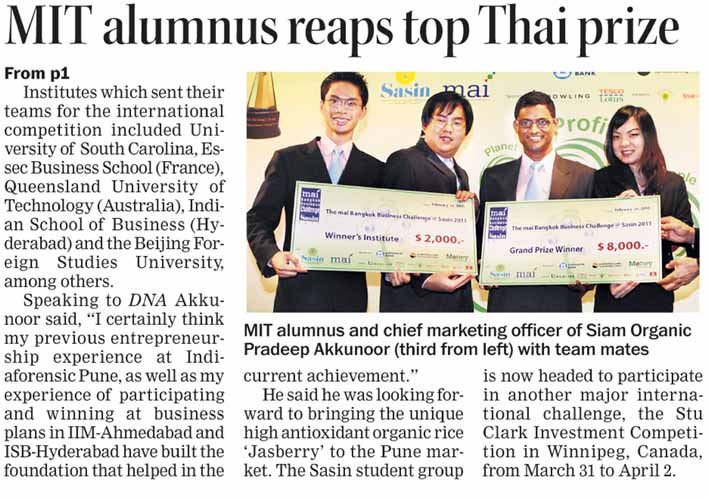 Akkunoor is currently pursuing his MBA, specialising in marketing and strategic management, at the Sasin Graduate Institute of Business Administration of Chulalongkorn University, Thailand.
His group, comprising four other members, won the top prize in the contest, the King of Thailand's Award and $10,000.
Their prize-winning business project revolved round 'Siam Organic' — an export marketing company developing the world's most nutritious and healthy specialty certified organic rice. Under the project, Siam Organic, supported by a fully integrated supply chain, would access consumers worldwide and develop one of the most premium branded organic rice strains coming out of Thailand.
Rich in beneficial nutrients such as anthocyanin, omega-3 and beta-carotene, the organic rice variety, branded 'Jasberry', focuses attention on the worldwide organic rice market, estimated at $2.52 billion.
For their project, the Sasin team collaborated with Apichart Vanavichit, inventor of this new rice variety and director of Rice Gene
Discovery and Rice Science Center at Kasetsart University in Thailand.
The Bangkok Business Challenge was created in 2002 to encourage post-graduate students in business administration programmes across Thailand and Asia to become more entrepreneurial. Teams from business administration programmes not only compete for the top award in the name of the Thai king, but also to win over $20,000 in prize money.
Institutes which sent their teams for the international competition included University of South Carolina, Essec Business School (France), Queensland University of Technology (Australia), Indian School of Business (Hyderabad) and the Beijing Foreign Studies University, among others.
Speaking to DNA Akku-noor said, "I certainly think my previous entrepreneurship experience at Indiaforensic Pune, as well as my experience of participating and winning at business plans in IIM-Ahmedabad and ISB-Hyderabad have built the foundation that helped in the current achievement."
He said he was looking forward to bringing the unique high antioxidant organic rice 'Jasberry' to the Pune market. The Sasin student group is now headed to participate in another major international challenge, the Stu Clark Investment Competition in Winnipeg, Canada, from March 31 to April 2.