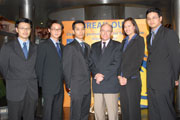 FINAL ROUND RESULT
by
Mar 8, 2007
WINNER
Oceanic Inc. 
Sasin Graduate Institute of Business Administration of Chulalongkorn University, Thailand


Oceanic Inc. was established to develop and commercialize natural medicines for aquaculture industry. Our primary product, AquaNes, is a100% natural fish anesthetic using clove oil as an active ingredient to anesthetize the fish during transportation. Our product's efficacy, competitive price, and safety will definitely enhance competitiveness to fish farm owners.
Faculty Advisor:
Professor Ian Fenwick

Team Members:
Mr. Wachirapong Prichavongwaikul 
Ms. Alisa Mahaarnichanon 
Mr. Pornsit Poovanakijjakorn 
Mr. Sukij Chaisirivoot 
Mr. Tanee Triratanavongse
FIRST RUNNER-UP
Dr. Seed 
Beijing International MBA, Peking University, China

Utilizing a patented technology, Plasma Seed Processor (PSP) that will enhance plant and vegetable seed growth, Dr. Seed Company LLC (Dr. Seed) plans to minimize the adverse effects of seed borne diseases, prolonged droughts as a result of global warming, and the depletion of available arable land area as a result of poor farming practices.
Faculty Advisor:
Dr. John Yang

Team Members:
Mr. Jakrit Tejavanija 
Mr. Vincent Wen 
Ms. Grace Liu 
Mr. Jonathan Chin 
Mr. Dell Hyun

FINALISTS
Castilla 
College of Management, Mahidol University, Thailand=

Castilla Co., Ltd. is a rubber formulation company which prepares raw material for rubber molders. We compound Natural Rubber with Synthetic Rubber with special additive and innovative process to provide the consistent rubber property. Our products can achieve lower cost because our process can reduce proportion of expensive Synthetic Rubber in compounded rubber. 

Faculty Advisor: 
Mr. Alex Blackwood

Team Members:
Mr. Kajorn Thamsuriya 
Ms. Virinda chaisawangwong 
Ms. Nanntaya ratanatraiphob 
Mr. Chawapoth Petcharat
CropPro Co., Ltd. 
College of Management, Mahidol University, Thailand

CropPro presents an opportunity to invest in the business of producing Straight Vegetable Oil and animal feed from Camelina Sativa. The business plan will outline CropPro's approach; from the contracting of farmland to the zero-waste production process, supported by a sound B2B marketing strategy and financial analysis.

Faculty Advisor:
Dr. Vanchai Ariyabuddhiphongs

Team Members:
Mr. Antti Nyrhinen 
Mr. Khomdej Shaweevong 
Mrs. Runglawan Skulmalaithong 
Mr. Songklod Wongchai 
Mr. Pongchat Limvichit

Nature's Care Inc. 
Asian Institute of Management, Philippines

Nature Care introduces 'antibacterial towels' made from Bamboo fiber. It is targeting a particular set of consumers in markets where there are rising health care & hygiene concerns. With an investment of US$3,000,000 this project would yield an NPV of US$40 million and IRR of 49%.
Faculty Advisor:
Professor Jay Bernardo

Team Members:
Mr. Priyaranjan Singh 
Mr. Atul Soni 
Ms. Michelle Martirez 
Ms. Arti D Joshi 
Mr. Srikanth Rachakonda

Verdacure Company 
Master of Marketing Programme, Thammasat University, Thailand
Verdacura Company Limited is established to produce high quality natural-ingredient affordable medicines for people's better health and well-being. Our first product, PerioVerda is the first periodontal disease drug offering two important benefits: 1) inhibit bacteria growth in inflamed areas, and 2) promote re-growth of gum tissue in the same time.
Faculty Advisor:
Dr. Edward Rubesch

Team Members:
Ms. Pattraporn Yamla-or 
Mr. Auttapol Akaraputhiporn 
Ms. Soraya Yangthaworntrakul 
Ms. Ajjaree Limpamont