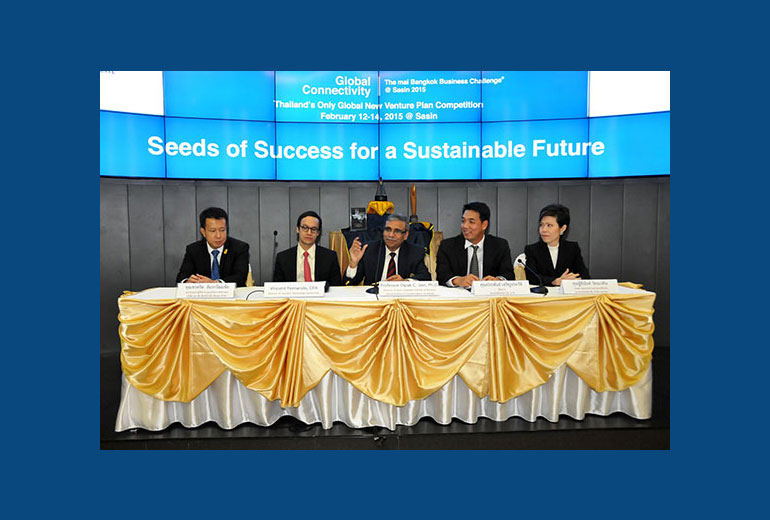 Sasin and the Market for Alternative Investment (mai) to host 13th Thailand's Only Global New Venture Plan Competition
by
Feb 20, 2015
Sasin Graduate Institute of Business Administration of Chulalongkorn University, in collaboration with the Market for Alternative Investment (mai), will hold a global venture plan competition, the 13thmai Bangkok Business Challenge® @ Sasin 2015, from February 12-14, 2015 at Sasin Institute of Business Administration of Chulalongkorn University. This year's theme is "Seeds of Success for a Sustainable Future", which continues to receive significant attention and feedback from leading universities from around the world. Official sponsors for this year's competition include: The Stock Exchange of Thailand (SET); Houston Technology Center Asia; and Kiatnakin Bank Public Company Limited and Tesco Lotus. The Money Channel and The Venture Labs Investment Competition are co-sponsoring partners.

The purposes of The mai Bangkok Business Challenge® @ Sasin are to encourage graduate students to learn new business skills, realize their capabilities, become more entrepreneurial, and help them to build a network among business school students from around the world. The competition also offers these young entrepreneurs the opportunity to meet with, and get valuable feedback from real investors, as they prepare to start their new businesses. The competition can become a catalyst for securing actual venture capital investments for these potential startups.
This year, for the first round of the competition, a total of 48 business plans from 18 countries across 4 continents, were submitted. The 16 teams which qualified for the semi-final round are from some of the world's leading business schools and include teams from the following institutions: the Kellogg School of Management, Cornell University, University of Oregon, and University of Arkansas from the U.S.A., Queensland University and Griffith University from Australia, Nanyang Technological University from Singapore, National Chiao Tung University from Taiwan; Chinese University of Hong Kong from Hong Kong SAR, Sejong University from South Korea, Indian Institute of Management Kozhikode from India; Asian Institute of Management from Philippines, Prasetiya Mulya Business School from Indonesia, Putra Business School from Malaysia, Lahore University of Management Sciences from Pakistan, and the Sasin Graduate Institute of Business Administration from Thailand.

For the 2015 awards, the competition's winning team will receive the H.M. The King's Award and an automatic berth in the Global Venture Labs Investment Competition (GVLIC) at The University of Texas at Austin, U.S.A., the "Super Bowl" of business plan competitions. Sasin also made a request to offer the H.R.H. Princess Maha Chakri Sirindhorn's Sustainability Award, kindly bestowed by Her Royal Highness and in commemoration of H.R.H. Princess Sirindhorn's 60th Birthday. The Award will be given to the team that demonstrates a strong commitment to sustainable development. Teams in this year's competition will also compete for the Houston Technology Center Asia Innovation Award, given to the team with the most remarkable innovation, and other prizes worth over US$128,000.