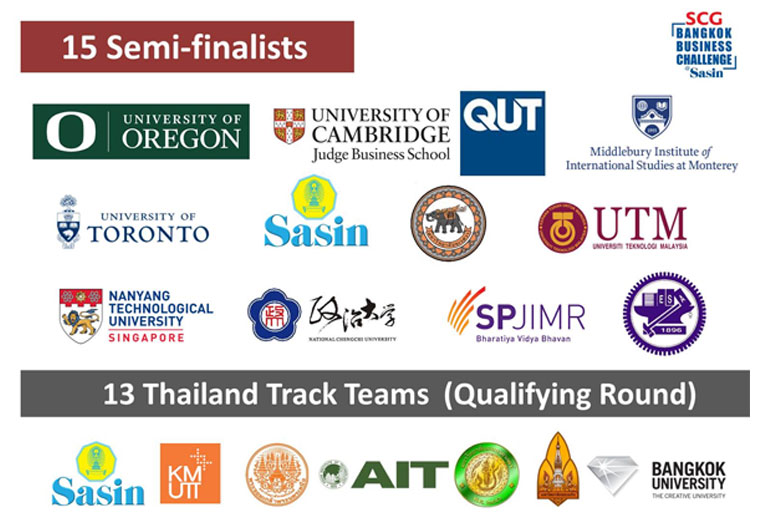 The 15 Semi-Finalists and Thailand Track Round Teams
by
Feb 20, 2018
The Bangkok Business Challenge @ Sasin, Asia's only global intercollegiate post-graduate start-up competition, was created in 2002 to encourage students in post-graduate programs across the globe to become more entrepreneurial. For 2018, the competition has a new co-host in Siam Cement Group and is being renamed SCG Bangkok Business Challenge @ Sasin.
After receiving a historic number of applicants to the first round – 112 postgraduate teams that represent 52 institutions, from 16 countries across 4 continents – our panel of distinguished first round judges has now selected the 15 Semi-finalists that are invited to the competition at Sasin on February 8-10, 2018, as follows:
And, due to overwhelming demand from teams representing academic institutions based in Thailand to participate in the competition, for 2018, we are introducing a Qualifying Round to the Thailand Track that was launched last year in an effort to cultivate the local deep-tech start-up ecosystem. The top 6 teams of this Qualifying Round will gain entry to the Thailand Track Finals, with the winner proceeding to join the other 15 teams Semifinalists mentioned above in the Semi-Final Round of the competition.
The Thailand Track Qualifying Round will be held on January 27th, 2018, and comprise the following: