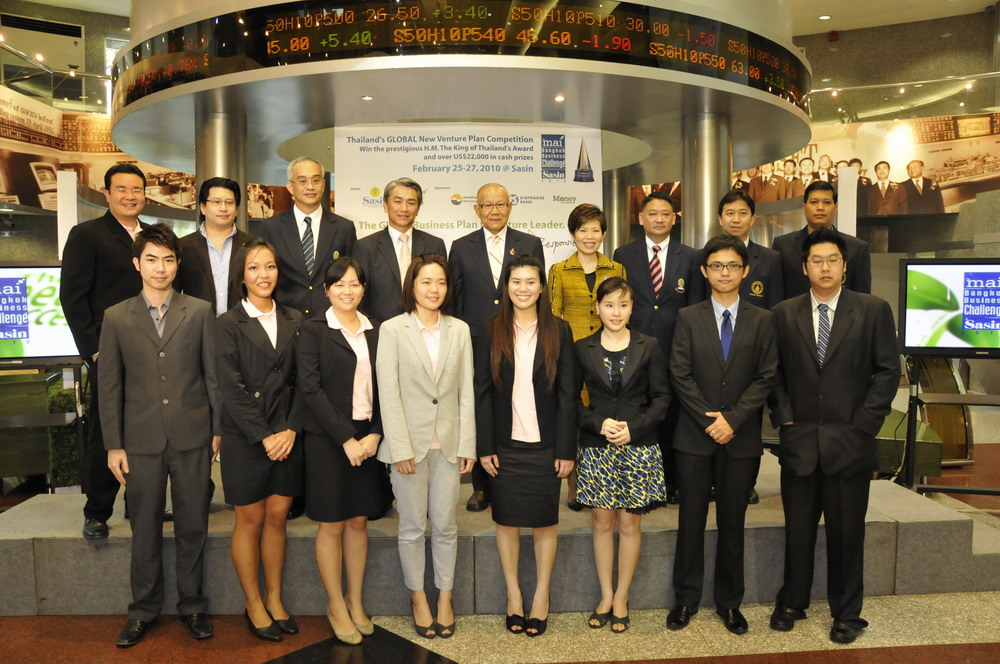 The mai Bangkok Business Challenge® @ Sasin 2010 Press Conference
by
Feb 20, 2010
Sasin Graduate Institute of Business Administration of Chulalongkorn University in cooperation with the Market for Alternative Investment (mai) organized the mai Bangkok Business Challenge® @ Sasin 2010 for H.M. The King's Award the as a stage for young entrepreneurs to learn how to draw up a business plan that will result in a joint investment. The competition is supported by The Stock Exchange of Thailand (SET), Kiatnakin Bank Co., Ltd. and the Money Channel.
Professor Toemsakdi Krishnamra, Director of Sasin, stated that "in this unstable economic environment, creativity, practical knowledge and clear business planning are the key factors to success. Business plan competitions provide one opportunity for business administration students to prove their capability in a practical way. Feedback from the judges who are successful business people from various fields is a bonus for all students in the competition." Each year, the business plan competition becomes more intense in respect of the quality of the business plans developed and the weirder representation from the education institutions participating in the competition. This year the trend is to feature "green" business that is environmentally friendly. With the theme of "The Seed of Success" this year, the trend has been "green" or environmentally friendly business. Fifty-five teams from 40 world class universities located in 15 countries signed up, including Cornell University, ESSEC, Mannheim Business School, Aarhus School of Business, Queensland University of Technology, Tsinghua University, Keio University, etc.
Mr. Vichate Tantiwanich, SET Chief Marketing Officer, Issuer &Listing and the Chairman of the mai Advisory Committee revealed that "SET is pleased to be able to again participate in developing new entrepreneurs from the mai Bangkok Business Challenge® @Sasin. Such activities are in line with mai's mission to give significance to and support strong entrepreneurs, as good business plans lead to sustainable businesses. Having good plans will help firms find capital sources, including joint-ventures or banks and leads to fundraising on mai, an alternative market supporting the growing business of new entrepreneurs," he continued. "This year, the mai Bangkok Business Challenge® @Sasin competition is very challenging as competitors will have to present business plans to be implemented under economic uncertainty. Competitors must combine academic knowledge with business ideas, presenting a plan that is strong, including having robust corporate governance and social responsibility, which are important factors in doing business these days. Meanwhile, mai would love to see the business plans presented really come to fruition, with real joint-ventures carried out, which is the real objective of this project. mai, therefore, has invited executives from listed firms to listen to the final round of the business plan competition."
Thitinan Wattanavekin, Head of Deposit and Marketing for Kiatnakin Bank Public Company Limited, said "being an official sponsor of 'The mai Bangkok Business Challenge @ Sasin' for eight consecutive years under the Human Development for National Development by Kiatnakin Project is part of Kiatnakin Bank's Corporate Social Responsibility (CSR) framework and the Bank takes great pride in providing this support for educational development. The Bank expects this English business plan contest to inspire the creation of new entrepreneurs with strong skills in business plan writing and possessing healthy sense of social responsibility. In addition, this prestigious contest provides Thai MBA students with a good opportunity to demonstrate their business acumens through their business plans and attract the interest of potential investors. More importantly, students will gain exposure to different ideas and perspectives from fellow contestants and be able to develop them into new intellectual capital for the Thai economy. Therefore, Kiatnakin Bank delights in providing support to this project which will lead to the creation of knowledgeable and responsible entrepreneurs whom we hope will contribute significantly to future national economic development".